In the ever-growing world of e-commerce, Amazon sellers are constantly looking for tools to optimize their businesses and stay ahead of the competition.
One crucial aspect of success is accessing powerful Amazon PPC software that provide valuable insights and resources.
"SellerApp vs Helium 10": which reigns supreme as the best platform to optimize PPC campaigns for Amazon sellers? This guide explores and compares each platform's features, pricing, and overall value.
SellerApp Vs Helium 10: A Brief Comparison
SellerApp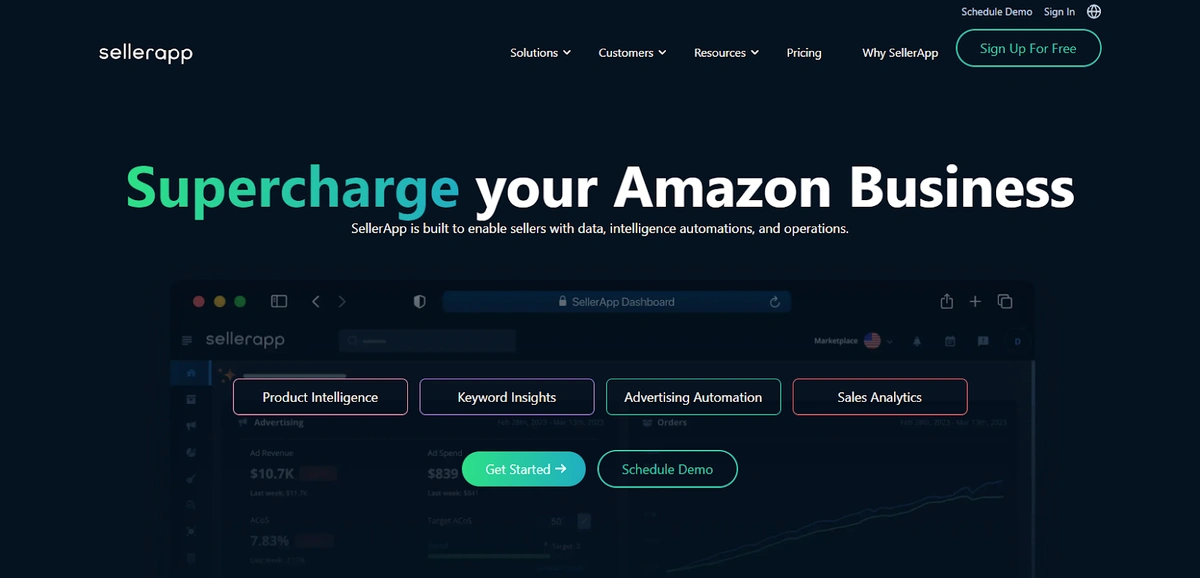 Image Credit: SellerApp
SellerApp is an all-in-one platform that provides Amazon sellers with actionable insights and tools to optimize their business operations.
With many features, SellerApp aims to help sellers with product research, keyword research, PPC campaigns, and more. The platform is known for its user-friendly interface and responsive customer support.
Helium 10

Image Credit: Helium 10
Helium 10, on the other hand, is a comprehensive suite of tools tailored to help Amazon sellers grow their businesses. The platform offers keyword research tools, listing optimization, and supply chain management to help sellers gain customer experience insights.
With its robust features and well-designed user interface, Helium 10 has become popular for sellers looking for an all-in-one solution.
Features Comparison:
1. Product Research
SellerApp:
Provides a comprehensive product database with filters to help sellers identify profitable products

Offers in-depth product analytics to help sellers make informed decisions

Smart Product Sourcing feature allows finding potential suppliers
Helium 10:
The Black Box tool allows sellers to find profitable products based on criteria such as sales, reviews, and category

Provides estimated sales, revenue, and profit margins for potential products

Offers a Chrome extension to give instant product insights while browsing Amazon
2. Keyword Research
SellerApp:
Offers a powerful keyword research tool that generates a list of relevant and high-converting keywords by analyzing search volume, competition, and trends in the market

Allows tracking of keyword ranking with customizable tracking parameters such as date ranges, search volume, and sales metrics, enabling sellers to monitor their listing performance and adjust strategies accordingly

Provides a reverse ASIN lookup feature to identify and analyze backend keywords used by competitors, helping sellers discover untapped keyword opportunities to improve their listing visibility and sales

Utilizes machine learning algorithms to provide keyword suggestions based on user behavior, ensuring that sellers target the most relevant and profitable keywords for their products
Helium 10:
Offers a comprehensive suite of keyword research tools:

Cerebro: a reverse ASIN lookup tool that provides insights into competitors' keyword strategies, including organic and sponsored ranking, search volume, and estimated sales

Magnet: a keyword research tool that helps sellers discover high-volume and low-competition keywords by analyzing real-time data from Amazon's search engine

Misspellinator: a tool that identifies common misspellings and typos, enabling sellers to capitalize on these mistakes by including them in their backend keywords or PPC campaigns

Provides keyword ranking tracking with customizable keyword alerts, allowing sellers to monitor their listing performance, receive notifications when rankings change, and adjust strategies accordingly

Offers suggestions for backend keywords and long-tail keywords by analyzing search trends, competitor data, and Amazon's auto-suggest feature, helping sellers improve listing visibility and increase sales potential
3. Product Listing Optimization
SellerApp:
Provides a Listing Quality Score (LQS) that evaluates your listing's performance based on title, bullet points, description, images, and backend keywords. The LQS has detailed recommendations for improvements, helping sellers optimize their listings for better visibility and conversion rates.

Offers an easy-to-use listing builder that provides real-time optimization suggestions while creating or editing a listing, ensuring that sellers incorporate the most relevant keywords and follow best practices for Amazon's algorithm

Allows for A/B testing of listing elements such as titles, bullet points, images, and descriptions, enabling sellers to compare the performance of different versions and make data-driven decisions to maximize conversions and sales
Helium 10:
Offers two powerful tools for listing optimization:

Frankenstein: a keyword processor that consolidates and organizes your keyword research into manageable, relevant groups, allowing you to focus on the most important keywords for your listing

Scribbles: an interactive listing editor that helps you create optimized listings by ensuring you incorporate all relevant keywords from your Frankenstein-generated list while adhering to Amazon's character limits and formatting requirements

The Index Checker tool ensures that your product listings are indexed for targeted keywords by analyzing Amazon's search results. This allows sellers to confirm that their backend keywords and listing content are effectively helping their products appear in relevant search results.

Allows for split testing of listing elements such as titles, bullet points, images, and descriptions with the Listing Dojo tool. This feature enables sellers to run experiments and analyze the performance of different listing variations, helping them make informed decisions to improve conversion rates and sales.
4. Competitor Analysis
SellerApp:
Offers competitor tracking and comparison tools that enable sellers to monitor their competitors' strategies, giving them insights into what works well in their niche and helping them refine their own sales and marketing campaigns

Provides detailed insights into competitors' product listings, keywords, and PPC campaigns, allowing sellers to identify strengths and weaknesses in their rivals' strategies and uncover opportunities to outperform them

Alerts users when competitors make significant changes to their listings, such as altering titles, descriptions, or images, ensuring that sellers stay informed and can quickly respond to any competitive shifts in the market
Helium 10:
ASIN Grabber tool allows sellers to analyze competitors' top-selling products by extracting critical information such as sales volume, pricing, and reviews. This helps sellers identify trends, best practices, and potential gaps in the market that they can exploit

The Cerebro tool helps sellers gain insights into competitors' keyword strategies by providing a reverse ASIN lookup. It reveals the organic and sponsored keywords competitors are ranking for, associated search volumes, and estimated sales. This information is invaluable for sellers looking to optimize their keyword strategies.

Offers a Chrome extension called Xray that allows sellers to compare products while browsing Amazon easily. The extension provides essential data such as sales estimates, revenue, and reviews, enabling sellers to quickly assess the competitive landscape and make informed decisions for their product listings and strategies.
5. Inventory Management
SellerApp:
A comprehensive dashboard to monitor inventory levels and sales performance, with real-time inventory management and reporting that helps sellers make informed decisions on stock management and pricing adjustments

Customizable alerts when inventory levels are low or out-of-stock, allowing sellers to take timely action to replenish their inventory and prevent lost sales due to stockouts

Supply chain management and planning with supplier tracking features, helping sellers maintain a competitive edge by optimizing their sourcing, logistics, and inventory management processes
Helium 10:
The Inventory Protector tool helps sellers avoid stockouts and overstock situations by monitoring inventory levels, setting minimum and maximum stock thresholds, and sending alerts when adjustments are needed.

Provides inventory forecasting and replenishment suggestions based on historical sales data, trends, and seasonality, enabling sellers to maintain optimal inventory levels and reduce the risk of stockouts or overstocking

Easy-to-use dashboard to manage inventory levels and sales performance, with real-time reporting features that give sellers a comprehensive view of their inventory status.
7. PPC Management
SellerApp:
Offers an advanced PPC management tool that helps sellers create, optimize, and manage Amazon advertising campaigns for improved sales conversions and ROI.

Utilizes machine learning algorithms to analyze campaign performance and provide data-driven insights for optimizing bids, budgets, and targeting.

Allows for A/B testing of ad creatives and targeting parameters to shape sales strategies based on actual customer responses
Helium 10:
Offers a robust suite of PPC management tools in the form of Adtomic, designed to help sellers create, optimize, and manage their Amazon advertising campaigns

Provides data-driven insights and automation features to improve keyword targeting, bid adjustments, and budget allocation, ultimately helping sellers grow sales and achieve better ROI

Supports custom integrations with third-party tools and platforms, allowing sellers to streamline their workflow and manage their advertising campaigns more efficiently
8. Feedback Management
SellerApp:
Comprehensive feedback management system designed to help sellers monitor and improve their online reputation on Amazon

Allows sellers to track product reviews and ratings, enabling them to address negative feedback promptly and maintain a positive brand image that attracts valuable visitors

Provides tools for understanding customers' needs and preferences by analyzing their feedback, helping sellers identify areas for improvement and tailor their products and services accordingly
Helium 10:
Features a robust feedback management tool called Follow-Up, which helps sellers manage their online reputation by automating communication with buyers and monitoring customer feedback

Send customized email campaigns to buyers, requesting reviews and feedback, thereby increasing the chances of receiving valuable input from satisfied customers.

Sentiment analysis features aid in understanding customers' opinions and emotions, allowing sellers to make informed decisions on how to address feedback and improve their overall customer experience.
9. Refund Management
SellerApp:
While SellerApp offers a variety of tools for optimizing Amazon businesses, it currently does not have a dedicated refund management tool.

Sellers using SellerApp can still monitor their refunds indirectly through sales performance reports and inventory management features, allowing them to identify any issues leading to a higher refund rate.

SellerApp users may need to consider using additional third-party tools or Amazon's refund management features, such as the Amazon FBA reimbursement process, to manage refunds more effectively.
Helium 10:
Features a dedicated refund management tool called Refund Genie, which helps sellers identify and recover lost funds due to Amazon FBA inventory discrepancies, such as damaged products, lost items, or incorrect fees

Automatically generates detailed reports on potential refund opportunities, making it easy for sellers to submit reimbursement claims to Amazon.

Refund Genie offers a user-friendly interface and step-by-step guidance on submitting reimbursement requests, helping sellers maximize their chances of recovering lost funds and maintaining a healthy cash flow.
10. Pricing And Plans
SellerApp:
Free 7-day trial for all plans, except for Freemium

Freemium: Offers limited access to keyword research, product sourcing, and basic data analytics, suitable for new sellers or those who want to try the platform before upgrading.

Pro Lite: Priced at $39 per month, this plan provides access to additional features such as listing optimization, PPC management, and inventory management, making it suitable for growing businesses or those with a smaller product portfolio.

Professional: Priced at $49 per month, this plan offers advanced features like competitor tracking, sales analytics, and increased keyword tracking limits, catering to established sellers looking to scale their business.

Platform for Agency: A custom plan tailored to agencies and businesses with specific requirements or larger-scale operations, offering custom pricing and dedicated support
Helium 10:
The free trial allows users to test the platform's features with limited access.

30-day money-back guarantee on all paid plans

Starter: Priced at $29 per month, this plan offers basic access to most tools, including keyword research, listing optimization, and limited PPC management, suitable for new sellers or smaller businesses.

Platinum: Priced at $79 per month, this plan unlocks more tools, features, and higher usage limits for established sellers looking to expand their business.

Diamond: Priced at $229 per month, this plan caters to larger businesses or agencies with increased usage limits and advanced features like multi-user access and priority support.
Scale Insights: Powerful Alternative To SellerApp And Helium 10
Scale Insights offers a cutting-edge solution for Amazon sellers seeking an alternative to SellerApp and Helium 10.
Leveraging its proprietary Scale-matic AI technology integrated with complex data analytics, Scale Insights is a robust Amazon PPC automation tool that streamlines and optimizes various aspects of selling on Amazon.
Some notable features of Scale Insights include:
Scalable campaigns in just 60 seconds, allowing sellers to adapt to market changes and maintain their competitive edge quickly

Fully automated campaigns that save time and effort while delivering outstanding results

Utilizes 11 proprietary algorithms to ensure data-driven decision-making and campaign optimization

Helps sellers achieve lower ACOS (Advertising Cost of Sale) and higher profits by optimizing bids, targeting, and budget allocation
Try a free 30-day trial (no credit card needed), starting at $78 up to $688 monthly. Customized plans are available for up to 2,000 automated ASINs.
Interested in more comparisons on Amazon analytics tools? Check out our guide on SellerApp vs Jungle Scout!
Frequently Asked Questions About SellerApp Vs Helium 10
How Accurate Is Helium 10 Sales Estimator?
While no sales estimator can guarantee 100% accuracy, Helium 10's advanced algorithms should be used as a guide to making informed decisions.
Can I Use Both SellerApp And Helium 10 Simultaneously?
Yes, you can use both SellerApp and Helium 10 simultaneously, as they are separate platforms offering different tools and features.
Is SellerApp Cheaper Than Helium 10?
SellerApp's pricing starts at $39 per month for its Pro Lite plan, while Helium 10's starts at $29 monthly for its Starter plan. However, the features offered in each plan vary, so it's essential to compare the specific tools and features you need before deciding which platform is more cost-effective.
Which Has Better Customer Support, SellerApp Or Helium 10?
SellerApp and Helium 10 offer customer support through various channels, including email, live chat, and online resources. User experiences with customer support may vary, so reading reviews and testimonials is recommended.
What's A Good Alternative To Helium 10 And SellerApp?
Scale Insights Amazon PPC Manager is a powerful alternative to Helium 10, offering advanced AI-driven technology, fully automated campaigns, and proprietary algorithms for optimizing your Amazon advertising and achieving lower ACOS and higher profits.
Does SellerApp Have A Mobile App?
No, SellerApp does not have a dedicated mobile app. However, users can access the platform through a mobile web browser.
Does Helium 10 Have A Mobile App?
Yes, Helium 10 has a mobile app for iOS and Android devices.
Do Helium 10 And SellerApp Have Chrome Extensions?
Both Helium 10 and SellerApp offer Chrome extensions, allowing users to access some of their features and tools directly from their browsers while browsing Amazon or conducting research.