As an Amazon seller, maximizing your success hinges on the tools and strategies you employ. With countless options available, selecting the right software to streamline your business operations and boost sales becomes crucial.
Among the many choices, SellerApp and JungleScout stand out as leading Amazon seller tools offering comprehensive features.
This article compares SellerApp vs Jungle Scout in-depth, examining their features, pricing, pros and cons, and best use cases. Let's dive in.
Overview Of SellerApp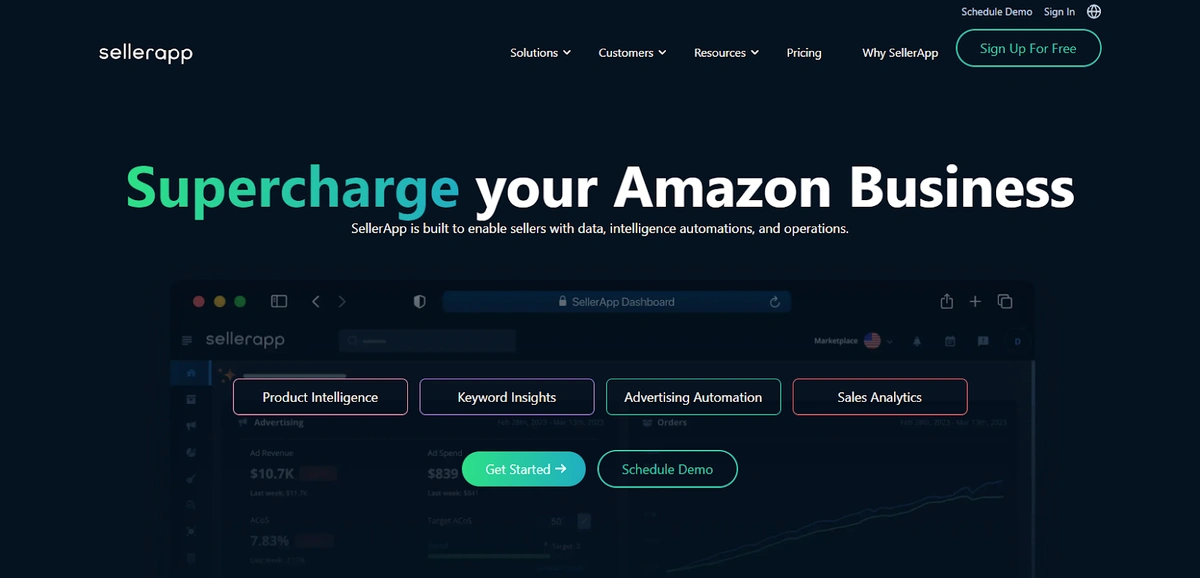 Image Credit: SellerApp
Key Features And Functionalities
SellerApp offers a wide range of features to support Amazon sellers, including:
Product Research: Identify profitable products and niches by analyzing sales data, competition, and market trends.

Keyword Research: Discover high-converting keywords and optimize listings to improve search rankings.

Listing Optimization: Analyze and optimize listings using keyword tracking, performance insights, and recommendations.

Sales and Profit Analytics: Monitor sales data, profit margins, and performance metrics to make informed decisions.

Inventory Management: Stay ahead with stock level monitoring, sales forecasting, and reordering suggestions.
Pricing Tiers And Options
SellerApp offers three pricing plans to accommodate sellers with varying needs:
Freemium: This plan offers limited access to product and keyword research features.

Pro Lite: Priced at $39 per month, the Pro Lite plan includes a more comprehensive suite of features, including data exports, SellerApp Pro Chrome Extension, team access, and lifetime data retention.

Professional: For large-scale sellers, this plan offers advanced tools, customized reports, Chrome extension access, advertising and automation, increased keyword and listing tracking caps, etc.
Overview Of Jungle Scout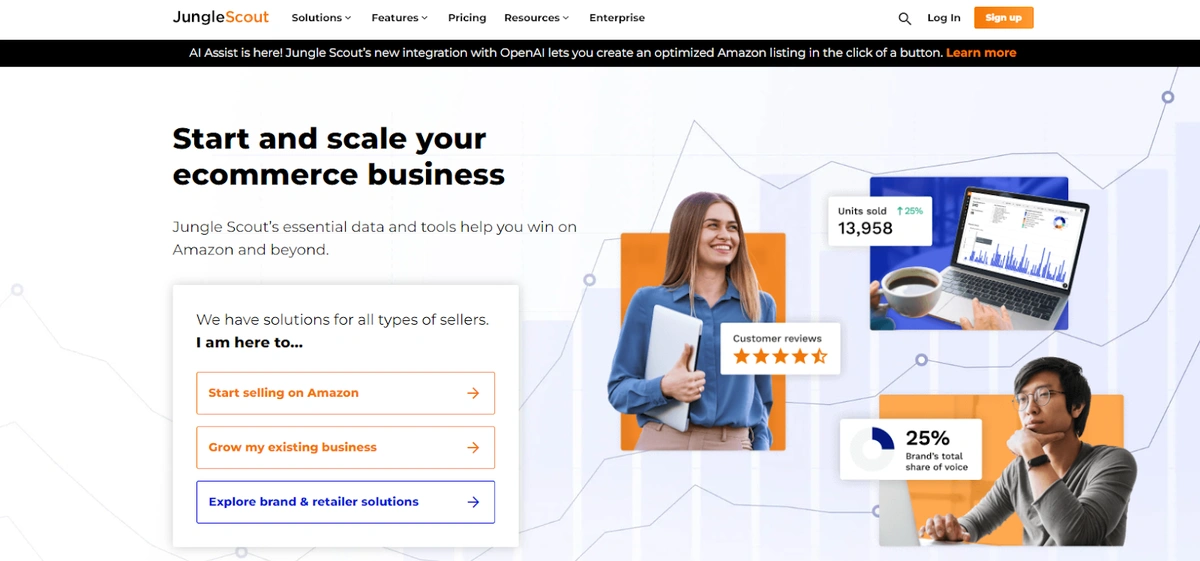 Image Credit: Jungle Scout
Key Features And Functionalities
JungleScout offers an extensive array of features, including:
Product Research: Access a vast database of products to identify profitable opportunities and market trends.

Keyword Research: Uncover high-potential keywords and optimize listings for better search visibility.

Listing Optimization: Improve listings with keyword tracking, listing analysis, and actionable recommendations.

Sales and Profit Analytics: Track sales data and profit margins to make data-driven business decisions.

Inventory Management: Monitor stock levels, forecast sales, and receive reordering suggestions for optimal inventory control.
Pricing Tiers And Options
JungleScout offers a variety of pricing plans to suit different seller requirements:
Basic Plan: At $29 per month, this plan provides access to essential product and keyword research features.

Suite Plan: At $49 per month, the Suite plan includes a comprehensive suite of tools, such as listing optimization and sales data analytics.

Professional Plan: For advanced sellers, the $84 per month Professional plan offers enhanced features, historical sales data, and priority support.
SellerApp Vs Jungle Scout Features Comparison
1. Product Research
SellerApp and Jungle Scout stand out as top-tier Amazon seller tools for product research.
SellerApp provides a comprehensive product database, offering numerous filters to help sellers find the most profitable products in various categories. These filters include price range, sales rank, reviews, search volume, and more.
On the other hand, Jungle Scout boasts a more extensive database and user-friendly interface that simplifies product research for Amazon businesses.
Its Product Database lets users quickly identify high-demand, low-competition products, while the Opportunity Finder pinpoints lucrative niches with minimal competition.
Additionally, Jungle Scout's Niche Hunter tool helps sellers assess product listings and determine the best strategies for optimizing their PPC campaigns and driving Amazon sales.
2. Keyword Research
Keyword research is an essential aspect of Amazon selling, and both SellerApp and Jungle Scout have developed powerful tools to address this need.
For SellerApp, the Keyword Research tool utilizes advanced algorithms to identify relevant keywords for your Amazon business, offering valuable insights such as search volume data, keyword ranking, and trending keywords.
Additionally, SellerApp's Reverse ASIN Lookup feature helps users uncover the best keywords used by competitors, enabling them to conduct in-depth market research and optimize their listings accordingly.
On the other hand, Jungle Scout offers a comprehensive Keyword Scout tool that provides keyword suggestions and includes search volume data, keyword difficulty scores, and PPC bid estimates.
With this data, sellers can decide which keywords to target for maximum visibility and sales.
Jungle Scout's advanced features, like the keyword tracker, allow users to monitor keyword performance over time and adjust their strategies.
3. Listing Optimization
SellerApp's Listing Optimization tool goes beyond basic features like keyword tracking and search term optimization. Its Listing Quality Index (LQI) evaluates the overall effectiveness of your product listings.
It assesses critical elements such as titles, bullet points, product descriptions, and images, providing actionable recommendations to improve your listing's performance.
Moreover, SellerApp's Listing Builder helps sellers craft well-optimized listings by suggesting high-potential keywords and offering real-time feedback on listing quality.
Jungle Scout's Listing Optimization features focus on delivering a user-friendly experience while providing powerful insights to improve your product listings.
The Listing Builder allows sellers to create optimized listings by incorporating relevant keywords, following Amazon's best practices, and tracking character limits.
Additionally, the Listing Grader analyzes factors like titles, bullet points, images, and backend keywords. This tool provides detailed feedback and a listing optimization score to help sellers identify areas for improvement and make the necessary changes for optimal listing performance.
4. Sales And Profit Analytics
SellerApp's sales and profit analytics tool offers a dashboard that presents essential sales data, including estimated sales, revenue, profit margins, and return on investment (ROI).
Analyzing sales data on a granular level is also possible with SellerApp, giving users actionable insights to grow their Amazon business and increase sales.
Jungle Scout also offers pretty decent features in the sales and profit analytics department. Its dashboard is visually appealing and easy to navigate. Users can view critical sales data from multiple products at once. They can also view data such as product costs, shipping fees, Amazon fees, etc.
5. Inventory Management
On the SellerApp platform, users are given complete control over their inventory. The dashboard offers real-time information on stock levels, product tracking, and sales forecasting.
It also shows reordering suggestions based on advanced forecasting algorithms, helping sellers maintain optimal stock levels and avoid stockouts.
Amazon sellers can also track transaction history, monitor changes in stock levels, and analyze inventory performance over time.
Jungle Scout also has a user-friendly inventory management dashboard with information on stock levels, sales forecasting, and reorder points.
Although Jungle Scout's forecasting algorithms may not be as advanced as SellerApp's, its more straightforward and accessible interface compensates for this difference.
6. Customer Support And Resources
SellerApp and Jungle Scout both offer extensive customer support options and resources. SellerApp provides email and chat support, a comprehensive knowledge base and video tutorials.
Jungle Scout has round-the-clock customer support via email, chat, and phone, along with a rich library of resources, training materials, and an active community forum.
Pros And Cons Of SellerApp
Advantages Of Using SellerApp:
A comprehensive suite of features to support all aspects of Amazon selling

Advanced sales forecasting algorithms for effective inventory management

Competitive pricing plans for various seller needs

Extensive knowledge base and video tutorials
Disadvantages Of Using SellerApp
The user interface may be less intuitive compared to Jungle Scout

Limited historical sales data
Pros And Cons Of Jungle Scout:
Advantages Of Using Jungle Scout
User-friendly interface that simplifies navigation and analysis

Access to a more extensive product database for more comprehensive research

24/7 customer support through various channels

An active community forum for sharing insights and experiences
Disadvantages Of Using Jungle Scout
Slightly more expensive pricing plans

Keyword difficulty scores may not always be accurate
Best Use Cases For SellerApp Vs Jungle Scout
Situations Where SellerApp Is More Suitable
Amazon sellers who require a feature-rich Amazon seller tool without breaking the bank may find SellerApp a suitable option. Its competitive pricing plans cater to various seller needs and budgets.

Those who prioritize advanced sales forecasting for inventory management: SellerApp's sophisticated forecasting algorithms provide accurate sales projections, enabling users to make informed decisions regarding inventory management, restocking, and cash flow management.

Users who prefer extensive educational resources and tutorials: SellerApp offers a wealth of educational materials, including a comprehensive knowledge base and video tutorials. These resources are invaluable for both new and experienced sellers looking to expand their knowledge of Amazon selling best practices.
Situations Where Jungle Scout Is More Suitable
Sellers who value a user-friendly interface for easier navigation and analysis: Jungle Scout's intuitive user interface simplifies the process of product research, listing optimization, and sales analysis, making it an ideal choice for sellers who prioritize ease of use.

Those seeking a larger product database for more extensive product research: Jungle Scout boasts a vast product database, offering sellers a broader scope for identifying profitable products and niches within the Amazon marketplace.

Users who prioritize round-the-clock customer support and an active community forum: Jungle Scout offers 24/7 customer support through various channels, ensuring users receive timely assistance when needed. Its active community forum allows sellers to share insights and experiences and learn from fellow Amazon sellers.
Scale Insights: Powerful Alternative To SellerApp And Jungle Scout
Looking for another Amazon seller tool? Users will find that Scale Insights is a great alternative worth considering.
Scale Insights uses a proprietary Scale-matic AI technology that integrates with complex data analytics to help sellers optimize their Amazon business for maximum profits. Using rule-based learning, Scale Insights can optimize your PPC campaigns through automatic bidding, dayparting, customizable ad reports, and more features and powerful analytics.
Ready to skyrocket your Amazon sales and business? Try a free 30-day trial of Scale Insights (no credit card needed), starting at $78 up to $688 monthly. Customized plans are available for up to 2,000 automated ASINs.
Contact us for more information.
Interested in more Amazon PPC software comparisons? Check out our guide on SellerApp vs Helium 10!
Frequently Asked Questions About SellerApp Vs Jungle Scout
How Accurate Is Jungle Scout Sales Data?
Jungle Scout's sales data is generally accurate, but as with any tool, there might be occasional discrepancies due to changing market dynamics. Some users report an accuracy rate of around 80-90%
Is Jungle Scout Worth It In 2023?
Yes, it's worth it in 2023 for Amazon sellers as it offers a broad range of tools like product research, product tracking, keyword optimization, inventory management, and more.
Is SellerApp Worth It In 2023?
SellerApp is also worth it, as it can provide sellers with keyword suggestions, search volume data, and keyword ranking information.
Can SellerApp Help With Keyword Optimization?
Yes, SellerApp can be used to uncover high-potential keywords and allow sellers to optimize their listings.
What Are Other Alternatives To Jungle Scout And SellerApp?
Here are other alternative Amazon FBA seller tools:
Scale Insights

Viral Launch

AMZScout

Keepa

InventoryLab

CashCowPro

Quantify Ninja

Teikametrics

EcomEngine