In today's competitive e-commerce landscape, leveraging the power of Amazon seller analytics software is crucial for FBA sellers looking to stay ahead of the curve. This essential toolset empowers sellers by providing actionable data and insights to optimize their listings, manage inventory, and make data-driven decisions for business growth.
This article will acquaint you with top Amazon seller analytics tools to boost your profits and make FBA operations seamless.
Whether you're an experienced seller or just beginning, these solutions are designed to meet the needs of your ever-evolving Amazon business.
#1. Scale Insights
Introducing Scale Insights, a cutting-edge Amazon analytics software tailored specifically for Amazon sellers. Developed by experienced sellers, this powerful tool harnesses the potential of Scale-matic Tech, enabling you to confidently analyze, automate, and scale your Amazon PPC campaigns. Scale Insights is your ticket to thriving in the competitive Amazon FBA ecosystem.
Scale Insights offers a suite of sophisticated features, including a "scalable campaign" structure, ensuring your marketing efforts align with your Amazon business growth. Its automated capabilities take the guesswork out of managing your PPC campaigns, allowing you to focus on other aspects of your enterprise.
With actionable advertising insights at your fingertips, you'll be equipped to make data-driven decisions that drive better results.
Arguably one of the best Amazon analytics tools, this software is designed to help you achieve lower ACOS and higher profit margins by providing key metrics and valuable insights.
This software stands out among Amazon analytics tools, providing unparalleled AI capabilities that adapt to your needs, ensuring that your FBA business is always on the right track.
Features:
Automated PPC management

Lower ACOS optimization platform

Higher profit margin focus

Inventory management
Cost of Scale Insights Amazon analytics tool: Scale Insights offers affordable pricing plans that cater to businesses of all sizes. With a 30-day free trial, you can test the software's capabilities before committing to a plan.
The pricing plans for Scale Insights start at $78 per month, making it an accessible option for smaller businesses. Additional plans are available for larger enterprises, allowing up to 2000 ASINs. With its flexible pricing options, this is a budget-friendly Amazon analytics tool that can help you optimize your marketing efforts without breaking the bank.
#2. Helium 10

Image Credit: Helium 10
Helium 10 is another excellent Amazon analytics software for businesses of all sizes. With Helium 10, you can take control of your product listings and maximize your Amazon brand analytics tool for better performance.
Gain valuable insights and access Amazon brand analytics to track customer satisfaction and optimize your strategy accordingly. Helium 10 is the go-to Amazon marketplace analytics tool, providing you with critical data and metrics to make informed decisions.
It features a range of tools to help improve your listings, optimize for SEO, and increase visibility on Amazon. It streamlines your operations, saves time and effort, and ultimately increases sales and revenue.
#3. Jungle Scout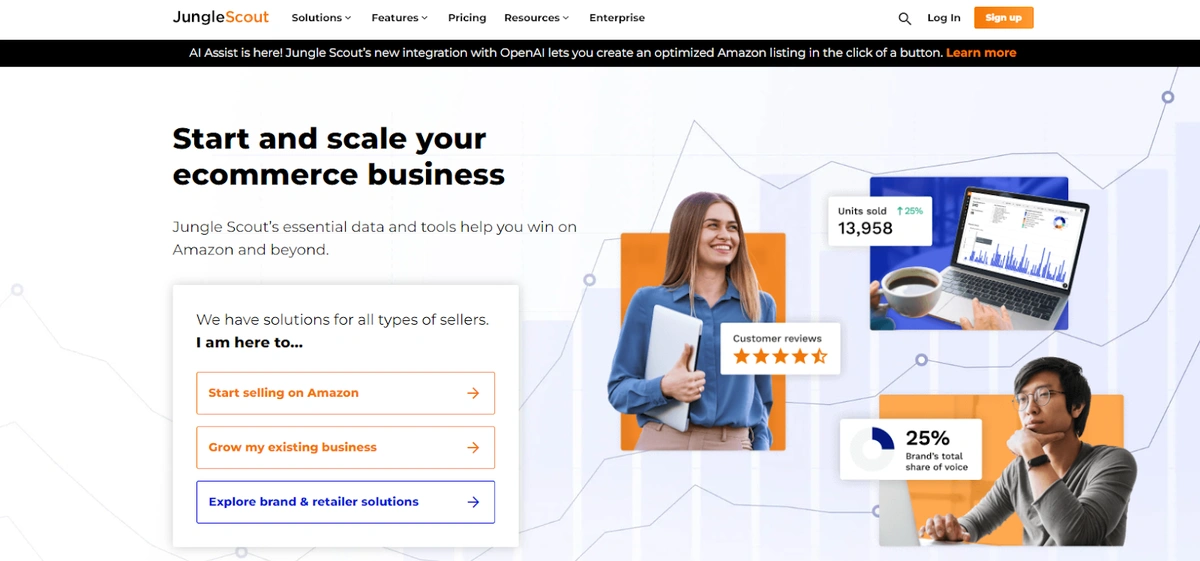 Image Credit: Jungle Scout
Jungle Scout is one of the best Amazon seller's essential tools, providing profit data and keyword-tracking software to help you make data-driven decisions and grow your business.
With Jungle Scout's review automation feature, you can increase customer satisfaction and streamline operations. The listing builder helps you create optimized product listings that stand out in the crowded Amazon marketplace. The rank tracker lets you monitor your performance and adjust your strategy accordingly.
Jungle Scout is more than just an analytics tool; it's a complete solution for Amazon sellers. With its advanced features and intuitive interface, Jungle Scout can help you improve your sales and profits while saving you time and effort.
#4. Perpetua
Perpetua is an all-in-one Amazon seller analytics software with various features, including keyword research, inventory health analytics, repeat purchase behavior reports, and a market tracker. These tools provide sellers with valuable insights and data for their listings and advertising campaigns.
In addition to these features, Perpetua also offers advanced PPC management, customer feedback management, and inventory management tools. By automating these essential tasks, sellers can focus on growing their business and increasing profits.
Overall, Perpetua is an essential tool for any Amazon seller looking to streamline their operations and maximize their sales. Its comprehensive features and intuitive interface make it a top choice among the best Amazon seller analytics software solutions.
#5. AMZScout
Image Credit: AMZSCout
AMZScout is built to help Amazon sellers make data-driven decisions and optimize their sales. With its user-friendly interface and robust features, AMZScout stands out among the best Amazon analytics tools.
AMZScout provides sellers the data they need to make informed decisions about their Amazon business. Its features include product research, keyword research, and sales tracking.
#6. Viral Launch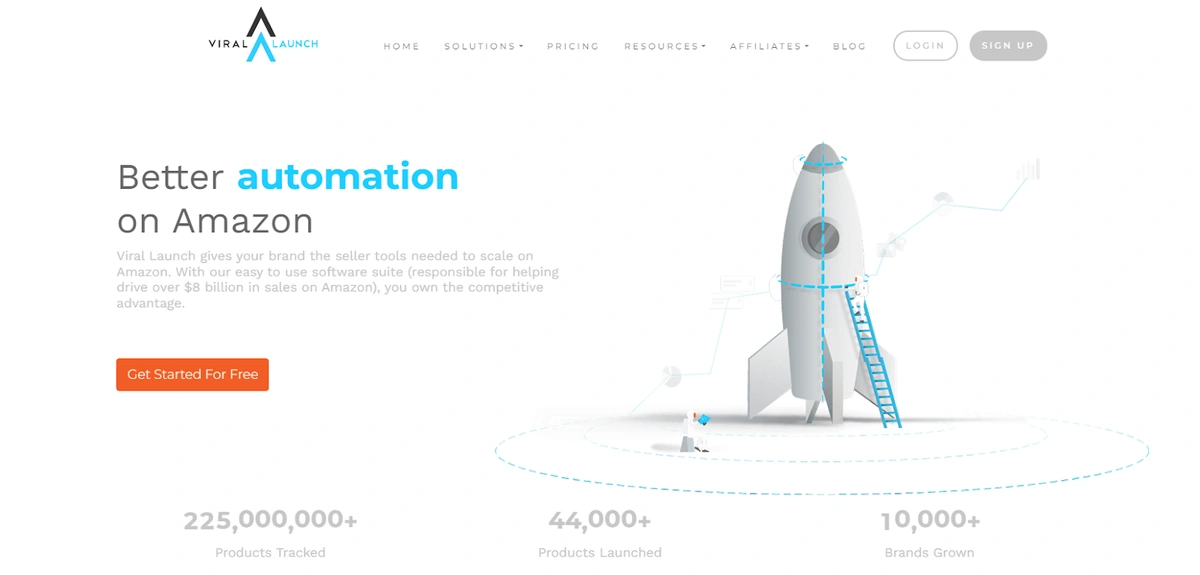 Image Credit: Viral Launch
Managing sales metrics and optimizing listings for better performance can be daunting for Amazon sellers with multiple accounts. With Viral Launch, it's easier than you think. It's advanced e-commerce analytics and tracking tools empower sellers to make data-driven decisions and achieve success on Amazon.
Viral Launch offers many features that empower Amazon sellers to take their businesses to new heights. Sellers benefit from powerful tools like product research, keyword tracking, and competitor monitoring. They gain invaluable insights to leverage a competitive edge and optimize their listings.
Along with its core features, Viral Launch provides:
Advanced PPC management tools.

Listing optimization.

Sales analytics designed to streamline business growth.
These efficient automated solutions enable you to focus on scaling your business while Viral Launch handles the rest.
#7. Seller Labs

Image Credit: Seller Labs
Seller Labs provides an effortlessly intuitive interface with user-friendly tools enabling sellers to oversee their inventory, automate PPC campaigns, and monitor sales performance in real time. Its advanced analytics features furnish valuable insights into business health and profitability.
Besides offering core features, Seller Labs provides Amazon sellers with powerful ad management tools for optimized ad spend and ROI. Overall, it's an essential tool for any Amazon seller looking to optimize their operations and succeed in the world's largest marketplace
#8. Keepa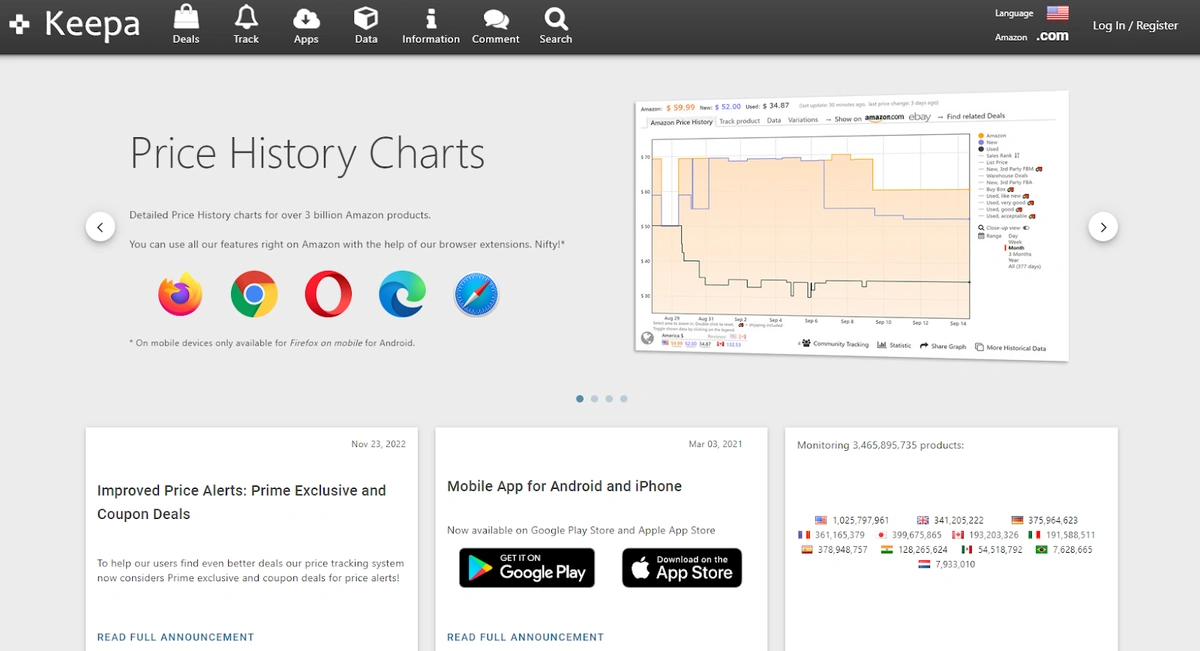 Image Credit: Keepa
Keepa is a powerful Amazon price tracker giving sellers valuable insights to make informed pricing decisions and maximize profits.
One of its key features is real-time price tracking. This lets Amazon brand owners monitor sales and their competitors' pricing strategies. Keepa also offers historical price data, allowing sellers to identify pricing trends and derive insights to scale their business operations.
#9. FeedbackWhiz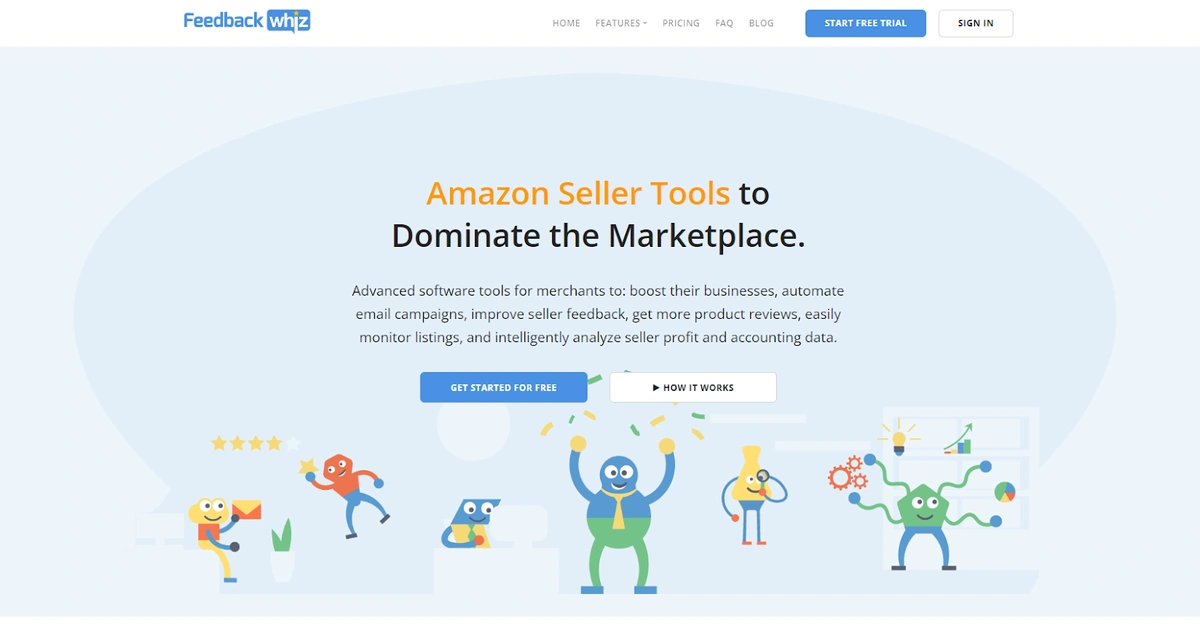 Image Credit: FeedbackWhiz
Another Amazon analytics tool popular across Amazon sellers is FeedbackWhiz. It's an all-in-out suite to help businesses optimize their Amazon sales and operations.
A standout feature is its order management system, which allows sellers to manage their orders across multiple seller accounts and stay on top of their sales performance.
FeedbackWhiz also offers advanced profits and accounting tools for financial health tracking and profit optimization. The email automation feature also makes it easier to communicate with customers and glean data to improve conversion rates and retain repeat customers.
#10. InventoryLab

Image Credit: InventoryLab
InventoryLab is the ultimate Amazon brand analytics tool for better business management – equipped with features including product research, inventory management, and profitability tracking.
By tracking inventory levels and sales performance in real time, Amazon sellers can streamline their operations, improve selling strategies, and boost their bottom line. InventoryLab – powering up your Amazon game!
#11. Zon.Tools

Image Credit: Zon.Tools
Powered by proprietary AI technology, Zon.Tools allows Amazon sellers to maximize their exposure to high-intent shoppers and boost sales using intelligent, automated PPC campaigns.
Zon.Tools offers a range of ad formats, including Sponsored Display, Sponsored Brand, and Sponsored Product Ads, to add variety to your existing selling strategies.
Fully functional, user-intuitive and user-friendly, it's one of the best Amazon analytics tools that will help you analyze market trends, predict future product demand, and more.
#12. Egrow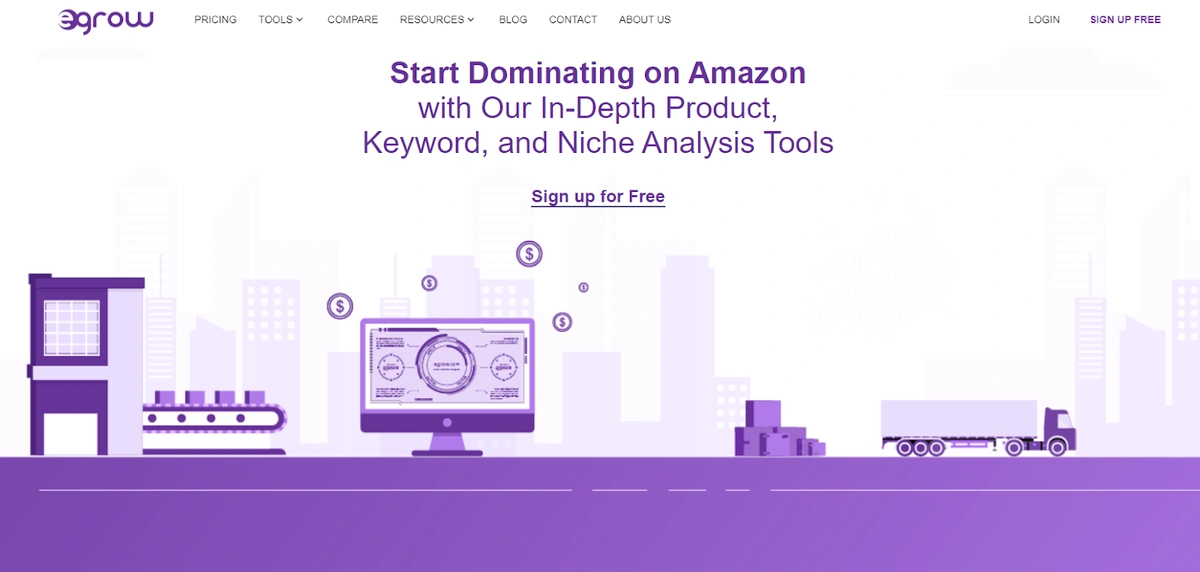 Image Credit: Egrow
Egrow provides sellers with everything needed to take their Amazon store up a notch. Its extensive product database allows you to access, sort, filter, and discover sales results on millions of products. Sellers can get a bird's eye view into what their potential buyers want.
Egrow's proprietary keyword and niche research tool also guides the user to use low-competition keywords and phrases with a high potential for sales.
You can rank your products without wasting time and effort on administrative activities. Instead, you can focus on building yourself as a successful brand owner on Amazon.
#13. Amachete
Take the guesswork out of running your online Amazon business through Amachete's Amazon analytics tool. It's a simple, easy-to-use Chrome Extension allowing users to analyze competitors, track inventory, and estimate profitability, all in a single suite.
You can also download a mobile version of the app, which allows you to look up products at your fingertips 24/7 and upload relevant information on social media channels without revealing your product or niche.
#14. CashCowPro
Image Credit: CashCowPro
CashCowPro's keyword tracker lets you track up to 100 keywords, giving you valuable insights into what your customers are searching for and allowing you to optimize your listings for maximum visibility and sales.
CashCowPro also offers automated feedback collection, making it easy to gather and respond to customer feedback and maintain a positive reputation on Amazon. Additional features include inventory analytics and monitoring to prevent overstocking and understocking, ensuring you always meet customer demand.
Want to test out different product listings? Pricing strategies? How about other sales variables? Maximize CashCowPro's AB split testing tool to increase sales and improve the overall bottom line.
#15. ManageByStats
Image Credit: ManageByStats
Tired of not being able to track your sales in real time? ManageByStats offers a complete seller tool for Amazon sellers, packed with a range of features you can take advantage of.
Don't worry if you have zero experience managing seller analytics tools. ManageByStats does the legwork by providing a profit data dashboard that lets you view a detailed overview of profits, conversion rates, and daily traffic for your product listings.
Another essential feature is the Financials Breakdown, which offers an accurate and reconciled financial breakdown of all sales, promos, refunds, advertising costs, and Amazon fees for varying data ranges.
All these and more with ManageByStats. For real-time analytics, keyword tracking, inventory management, automated feedback collection, and more, ManageByStats gets it done.
#16. Quantify Ninja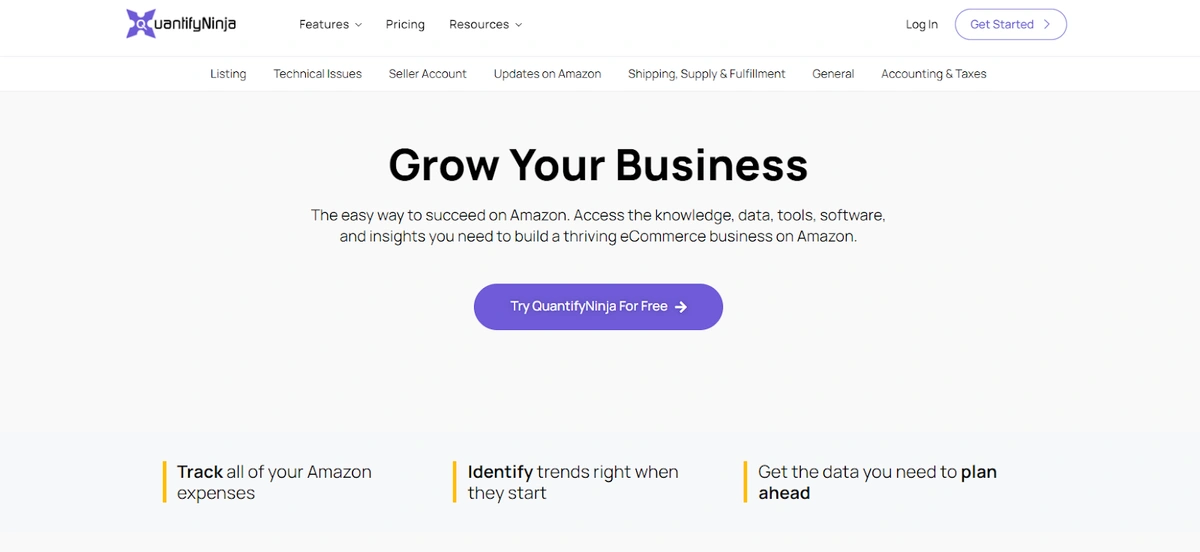 Image Credit: Quantify Ninja
Surviving in the cutthroat marketplace of Amazon can be challenging. Every business owner knows that to rise above the fray, you need an Amazon brand analytics tool that delivers the insights you need in one central location.
Meet Quantify Ninja, the tool that makes sense of all your Amazon expenses. Keep track of data trends, stay ahead of the curve, and emerge as a leader in the competition game.
Quantify Ninja isn't just any analytics tool. It's fully integrated with your preferred customer service channel, making it the perfect tool for Amazon sellers who want to stay ahead of the competition. With Quantify Ninja, money talks and competition walks!
#17. ASINspector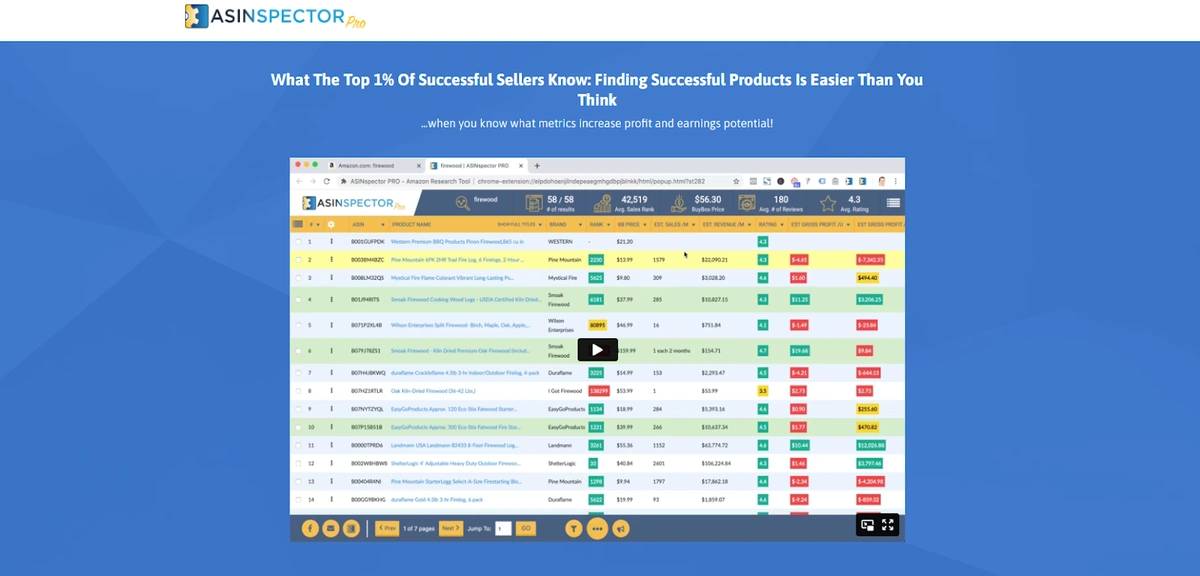 Image Credit: ASINspector
If you've tried and failed in the past with an Amazon seller analytics tool that didn't work, ASINspector shouldn't disappoint. It generates only high-volume, money-making keywords so your products gain as much visibility as possible.
It uses proprietary technology, allowing you to quickly find the best-selling products on the market and uncover hidden gems your competitors couldn't. Its keyword analyzer instantly generates the best-ranking keywords for you and creates dedicated lists for your products using Google and Google Trends.
#18. Teikametrics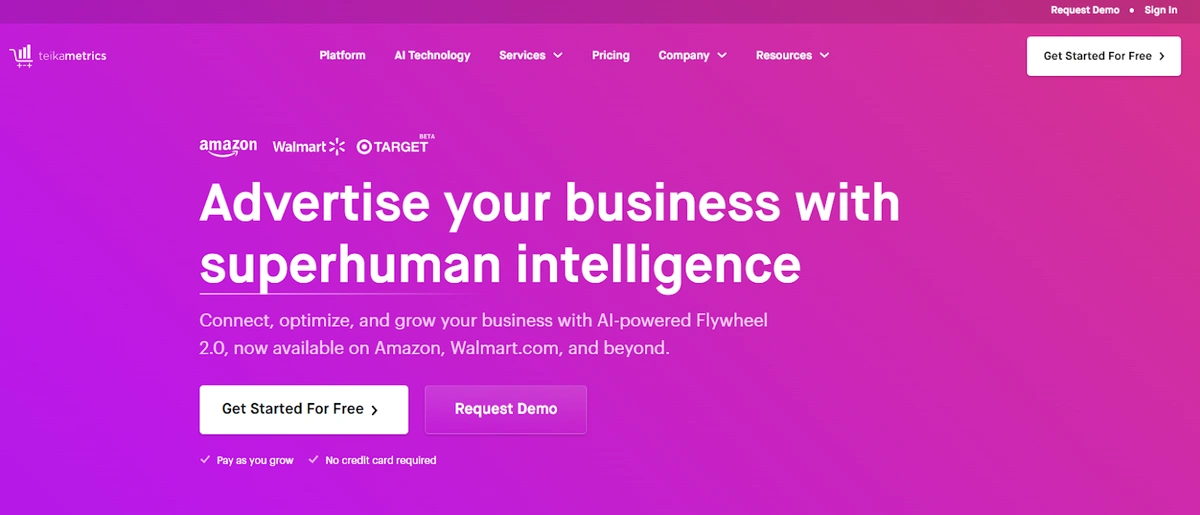 Image Credit: Teikametrics
Teikametrics uses Flywheel 2.0, an Amazon analytics and optimization tool with AI technology, to help sellers manage their businesses. Sellers can track sales, assess inventory, monitor financial health, and view customer feedback.
Teikametrics mainly focuses on scaling businesses and helping them adapt to an ever-changing e-commerce landscape. Its Marketplace Optimization Platform is not only built for Amazon but for Walmart and Target as well, should you decide to scale.
Get rid of unnecessary tasks that take up too much of your time. Turn your attention instead towards creating unique products your customers will want to keep returning to.
#19. RepricerExpress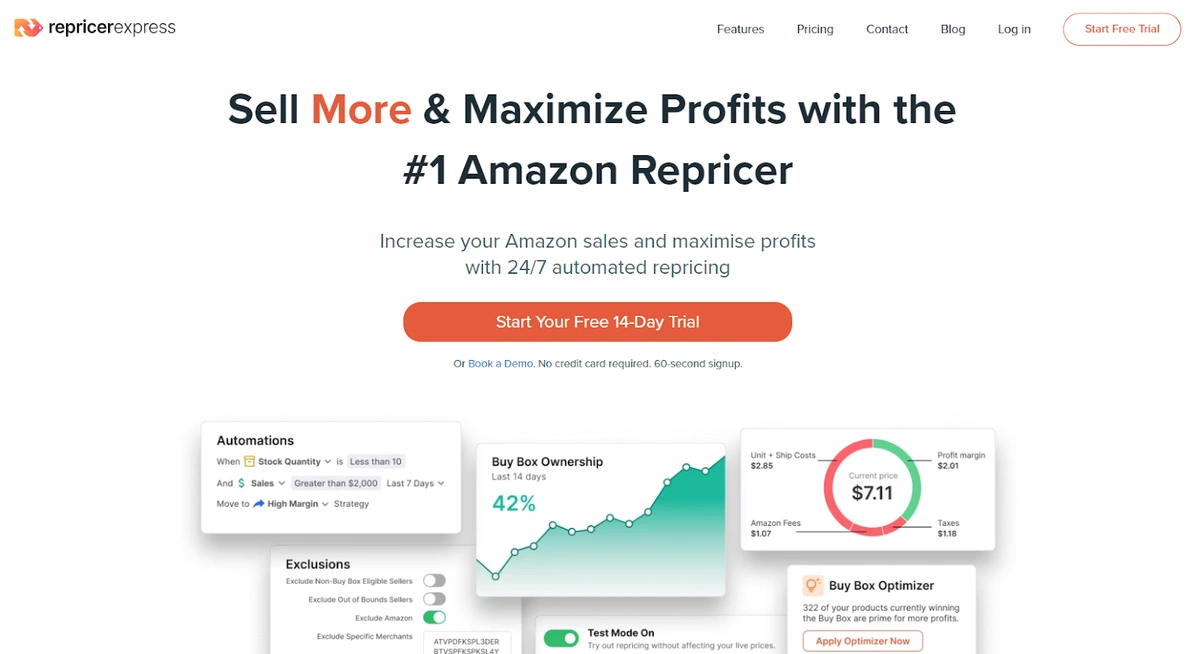 Image Credit: RepricerExpress
Do you need to meet your net profit? Try as you might have to use the best Amazon analytics tool out there; you can't make a buck, much less break even.
It could be something to do with your price. But it would be best to do more than reprice your product listings on a whim. It would help if you had an advanced tool to get the job done, and that's precisely what RepricerExpress is for.
RepricerExpress uses pre-made, tried, and tested repricing templates to get your business up and running quickly. Its goal is to get you a higher profit on each sale, allowing you to take advantage when competitors run out of stock or even when you're already on the Buy Box.
#20. SellerApp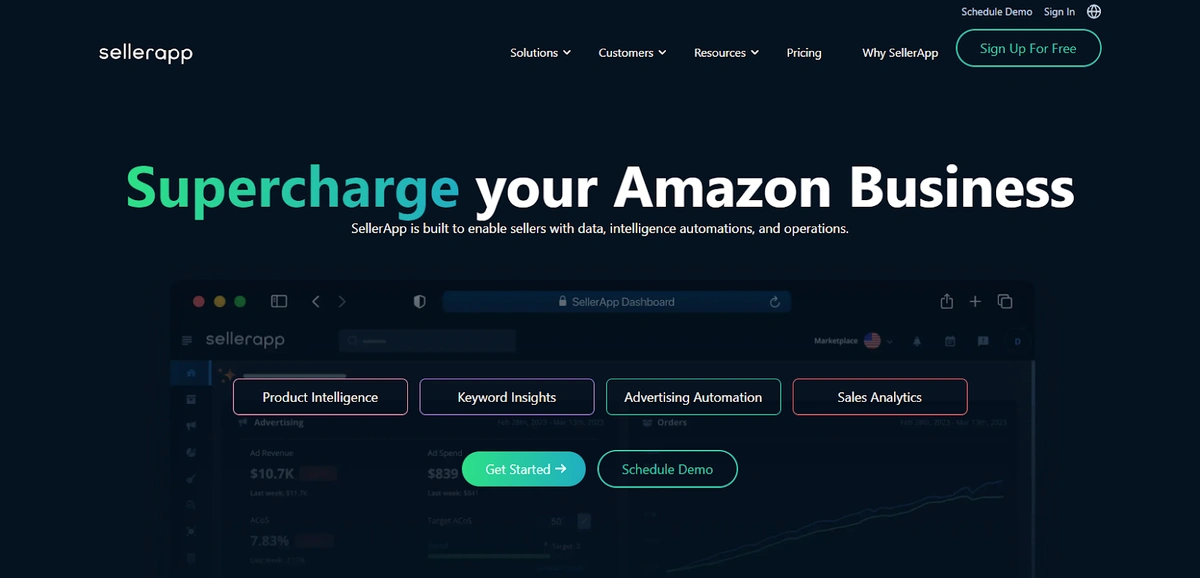 Image Credit: SellerApp
If you're looking for a single platform to search, sell, scale, and optimize, look no further than SellerApp. It's dubbed as one of the best Amazon analytics tools in the market, built with a host of features to make your products lucratively profitable.
Its signature features include product research, reverse search, listing builder, automation, and inventory forecasting. Everything works together as a well-oiled machine to make you the most invaluable Amazon seller on the platform.
#21. BQool

Image Credit: BQool
Winning the elusive Amazon Buy Box is every Amazon seller's dream. And if you haven't, check out BQool's next-generation, AI-powered Amazon repricer.
BQool allows you to win more sales and increase gross revenue through data-driven repricing strategies and incremental reprices. It's a complete sales, marketing, and service suite designed by and for Amazon sellers like you.
#22. Profitero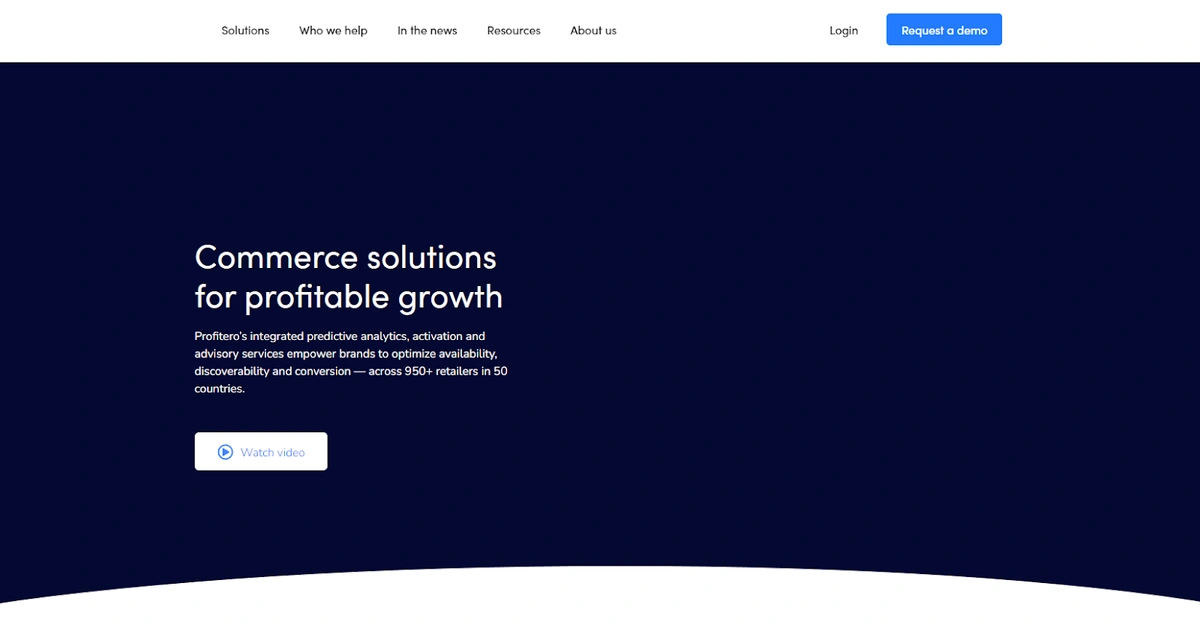 Image Credit: Profitero
Numbers don't lie, but what use are they if you can't take action? Profitero is driven to elevate your brand from simple insights to action that delivers actual, measurable results.
Founded on three core pillars: Analytics, Advisory, and Activation, Profitero explores money-making opportunities that will help you drive more sales on Amazon. Then it uses AI and predictive intelligence to advise you on the next actions. The ultimate goal is to maximize your ROI by optimizing product listings and ensuring your platform is an always-on content engine.
Scale Insights: The Best Amazon Analytics Tool For Sellers
With our scalable campaign management, automated actionable advertising insights, and robust data analytics, you'll be able to lower your ACOS and drive higher profits in no time.
Ready to take your Amazon business to the next level? Try a free 30-day trial of Scale Insights (no credit card needed), starting at $78 up to $688 monthly. Customized plans are available for up to 2,000 automated ASINs.
Frequently Asked Questions On Amazon Analytics For Sellers
How Do Amazon Analytics Tools Work?
Amazon analytics tools use data from Amazon and other sources to give sellers insights into their sales, customers, and competitors. These tools can analyze data on product rankings, pricing, reviews, etc.
Can Amazon Analytics Tools Be Used For Different Types Of Products?
Yes, Amazon analytics tools can be used for all types of products. These tools provide insights into sales data, customer behavior, and product rankings for all products sold on Amazon.
How Frequently Should Sellers Use Amazon Analytics Tools?
Sellers should use Amazon analytics tools regularly, depending on their business needs. Some sellers may choose to monitor their sales data and product rankings daily, while others may choose to use these tools on a weekly or monthly basis.
Can Amazon Analytics Tools Help With Advertising?
Indeed, Amazon's analytics tools offer many features to assist sellers in their advertising efforts. Such features may encompass critical areas such as keyword research, campaign management, and keeping tabs on ad performances.
Can Amazon Analytics Software Fix Listing Errors?
Amazon analytics software may offer suggestions for improving product listings based on data analysis. Still, it cannot fix listing errors directly. Sellers must manually make the necessary updates and changes to their listings.
How Much Does An Amazon Analytics Software Cost?
Amazon analytics tools for sellers can cost anywhere between $9 to $700. Our plans start at $78 with a 30-day free trial.
Does Amazon Analytics Software Monitor Reviews?
Yes, many Amazon analytics software tools can monitor reviews and provide data on review trends and sentiment. This data can help sellers identify and address potential product issues and improve customer satisfaction.
Do I Need Amazon Analytics Software?
Whether or not a seller needs Amazon analytics software depends on their business needs and goals. To determine if you need this software, assess your current strategy. Are your sales less-than-ideal? Do you spend more time on tedious tasks than creating value for customers? Are you losing more than profit? These are just some questions before trying out Amazon analytics or PPC software.